Choosing where to locate is a big decision, but we can help.
In an information-based economy, reliable data is crucial for decision makers to achieve success. Kerr Economic Development Corp is dedicated to assisting businesses, stakeholders, community organizations and the public with their information needs.
DEMOGRAPHICS
WORKFORCE
The Kerrville Population estimate according to US Census Bureau was 23,434 as of 2016. The population percent change from 2010 to 2016 was a 4.9% increase


The population for Kerr County is 51,414

With 24,915 Males and 26,499 Females.

According to US Census Bureau there are 2,930 businesses that employs workers. Approximately 53.3% of the Kerrville workforce was employed in 2016.

86% of workers in Kerrville over the age of 25 are high school graduates or higher. Whereas 28% have an advanced degree.

Meantime travel to work in minutes is 14.3.

The unemployment rate is low at 3.7%

​According to bestplaces.net. it also states that job growth is 0.14% and is predicted over the next 10 years to be 36.03%

US Census Bureau reported that in 2012 there were an estimated total of 19,364 workers in Kerrville.
With 6,176 being Males and 5,517 workers being Female.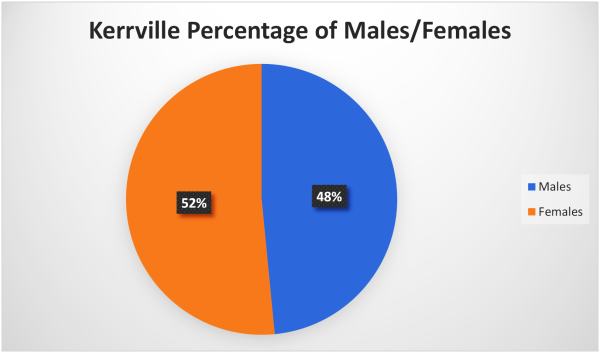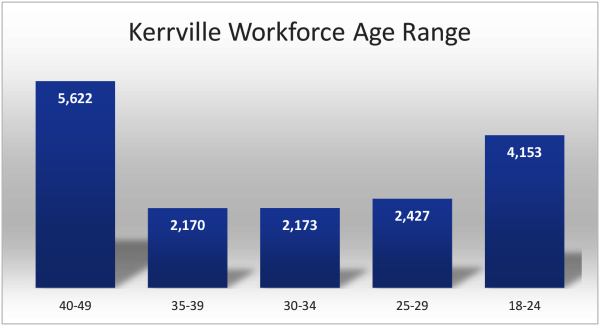 Population Density: 1,089 people per square mile
Median Age: 45.7
Texas Median Age: 34.5 years

Median family income: $52,054
Texas median income: $56,565

Texas does not have a state income tax.

Tivy High School received a silver medal for Best High Schools from US News. The school ranked 160th in the State which is in the top 16%. Total enrollment is: 1,372 students.
The proficiency in Mathmatics (district average: 92%. With a graduation rate of 99%. The national graduatio rate: 84%

POPULATION BY OCCUPATION
Agriculture, forestry, fishing, hunting   1.85%

Mining, quarrying, oil and gas extraction   0.87%

Construction   8.52%

Manufacturing   5.20%

Wholesale trade   2.53%

Retail trade   12.98%

Transportation and warehousing   2.60%

Information   0.44%

Finance and insurance   3.12%

Real estate, rental, leasing   2.15% ​
Professional, scientific, technical services   4.75% 


Management of companies   0.17%

Administrative, support, waste mgt svcs   3.46%

Educational services   11.22% 

Health care and social assistance   18.27%

Arts, entertainment, recreation   2.63% 

Accommodation, food services   8.35%

Other services   7.47%

Public administration   3.31%
​

date source: http://www.bestplaces.net/economy/city/texas/kerrville